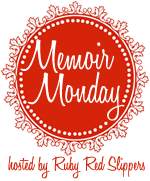 Wow.
I feel like this weekend really was part of my life's memoir.
It was one to remember.
But unfortunately, I have to save some of the details for later...for when I reveal a bit of Ruby news.
Bummer.
But what would a Memoir Monday post be without some pictures from the weekend? So, of course I have a few!
The weekend: MORE Christmas festivities. Ornament making. The best friends in the entire world. Laughter. Hot Chocolate. Rum Punch. The common trend of way too much food during the holidays. Feeling proud that one of MY friends is a talented opera singer. Tearing up during her concert...multiple times.
New Tradition. I went to my very first ornament-making party. And I totally think I'm going to make this a new Ruby tradition. It was SO much fun!!!
Final Product.
My sweet husband made this. Ok, he really just stuck the cloves into the orange in a swirly pattern, and then my friend's aunt tied the bow...but still.
We could sell these.
Everyone's ornaments turned out so cute. And there was every crafty material and tool you could possibly use.
Proud.
This girl can belt out a note or two. ;) She gave an INCREDIBLE Christmas concert last night. Sang some of my all-time faves: Give me Jesus, I'll be Home for Christmas, Carol of the Bells, Silent Night, Oh Holy Night. Love.
Even Prouder.
My two very talented friends that put the rest of us to shame. A Graphic Designer and an Entertainer/Singer.
Go ahead and share your weekend's memoir. I'd love to hear about it.
(News to come soon...promise).