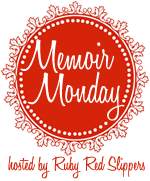 Since we've moved back home, I've asked myself daily "Are we...
lame
"?
Don't answer that.
I'm not sure if it's the windchill of -12° or the fact that we are both so busy with new jobs, but it sure feels like we do a lot of hanging out in our sweatpants at home lately.
But you know something? Hanging out at HOME feels so good!!! We feel like we're catching up for time lost for the past 5 years.
So, my weekend recaps are definitely becoming less and less memoir-esque, but I still enjoy reliving the memories. Feel free to play along if you'd like!
Our weekend consisted of the following:
Two $5.00 margaritas. Patron. I love Kansas prices. Love.
Celebrating Kansas Day. Ok, this one definitely answers my first aforementioned question. Hey, the art teacher made the cake for the p.e. teacher's birthday!!!
This is us. All day every day. (Let's play a little game called "Who needs bronzer in these pics"?)
Sneaking up on my favorites. How cute is this?
Watching the two KS teams battle it out. I don't want to talk about it.
Sporting my purple.
What did YOU do this weekend?!?!