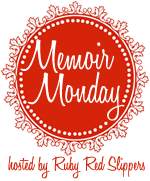 What a whirlwind.
It's been awhile...so I thought I'd recap our BIG MOVE with a Memoir Monday.
Nearly 3 weeks ago, Mr. Ruby and I packed up my belongings and stuffed them into our car. (And by belongings I really mean my clothes...winter clothes only).
Why just my stuff? Well in case you missed the story with all the holiday madness, it was originally only going to be me who moved home to Kansas for a few months to complete my student teaching while Mr. Ruby looked for a job in the vicinity of home (i.e. within 200 miles). BUT by the grace of the Good Lord, Mr. Ruby received a job offer from an awesome company in our home town. Woo-Hoo!!!
Because it was so last-minute, he was left with the duty of packing up all of our belongings and driving our stuff 1,600 miles across the country (pics and stories soon to come!)
But before he could finish his two weeks at work and begin packing, he first had to drive ME across the country and spend Christmas with our families.
This is our story:
One last hurrah. We began our journey with one last "Family Breakfast". These are already greatly missed.
Cheers. A sentimental toast to the Rubies' new future. (My dear sweet friend...and every other girl in the room got emotional on this one).
Goodbye. This humble abode and its amazing landlords/neighbors/pseudo family will be greatly missed.
And we're off. Only 30 hours and 1,600 miles to go!
Empire State of Mind. Let's hear it for New York.
My BFF's. Magazines, the latest Nick Sparks book, and Christmas cookies for the road made by the aforementioned neighbors/landlords/pseudo family.
Stylin. Mr. Ruby forgot sunglasses...so he had to borrow mine.
Delaware. One of many pee breaks. And tolls.
Pit stop. Nope, not kidding. Met up with our friends in D.C. who live a few streets over from the White House.
Best road trip ever. Got to see the W.H. Christmas Tree.
On the town. With these two D.C. high-power attorneys. ;)
Nom.Nom. Better than our usual road trip meal of Taco Bell and McDonalds.
Much needed rest. For our busy day ahead - 15 hours!
Mrs. Ruby takes the wheel. But only with a giant iced coffee.
KFC. Kentucky = more than halfway there.
Next stop. St. Louis to stay with sis-in-law and her hubby.
Thank God. I have never been so happy to see that little checkered flag.
Bittersweet. Symbolic greeting to our new life.