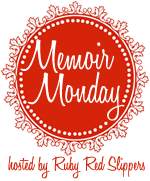 Welcome to an introduction of
Memoir Monday
!
So, I have been known to get a severe case of the Sunday Night Blues every.single.week. And I know many others out there live for the weekends just as much as I do, so I thought it would be fun to have something to look forward to by reliving our weekends through a Memoir Monday post!
Now, the purpose of Memoir Monday is simply to share what you did over the weekend through a story (mine usually entails something embarrassing), a picture (or two...or twenty-five), or even a successful recipe, new book suggestion, or quote that sums it all up. Even if you sat at home watching back-to-back episodes of Criminal Minds (c'mon, there has to be someone else out there that does this on an occasional Friday night) or read "How to knit for Dummies", let's hear about it! It's really just a
weekend recap
.
How to play?
Copy my adorable Memoir Monday button created by the beautiful and talented Rachel at RV Designs and paste it to the top of your post.
Post a comment so I know you're playing along!
And most importantly, have fun memoir-ing it !!! :)
Look for the first post tomorrow...