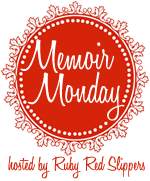 Um. It's been quite the time gap since I've posted a Memoir Monday.
Or done any consistent posting, period.
But, I absolutely must do a Memoir Monday weekend recap - wedding style.
And no, I'm not talking the royal wedding. Although it was quite lovely. And I seriously want to be Kate Middleton.
But I'm talking my dear friend Julie. A sorority sis, and one of my very first friends in college.
It was a GORGEOUS wedding, and the bride was absolutely stunning. I mean, totally on par with Kate. ;) And a huge bonus? I got to see my closest sorority sisters, and it.was.amazing.
A big thank you to my sweet husband. He was pinned the photographer all night long. And there were 96 photos taken. Poor thing.
Some highlights of the wedding:
1). The most beautiful flower centerpieces I've ever seen.
2). Bride and Groom coming out to the theme from Rocky...with boxing gloves on. So cute.
3). I'm pretty sure everyone in the building was on the dance floor...the entire night.
4). Hanging out with my ADPI gals in the hotel before the wedding. ;)
5). Meeting all of my besties' significant others. Made me realize that it's SO great to not be living so far away anymore.
6). Having all my Pi Gals on the dance floor boogying to "Girls Just Wanna Have Fun". Duh.
7). The hotel bar re-opening the bar they had just closed. Just for us.
8). Waking up in the morning and hanging out with my best friends (including Mr. Ruby) in our pj's...in one bed...talking for about 2 hours.
CONGRATULATIONS to the NEWLYWEDS!!! :)
I'm the matron of honor in
this gal's
wedding in just a few short months!!!
One of my faves:
Jersey Girl
, a bestie from college AND a fellow blogger