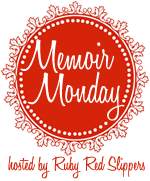 I am officially onto camera number 4... or 5 maybe?!?!
I have truly lost count at this point. And it's only been in the last four years.
That's right, folks, someone out there is either playing a sick joke on me...or has cast a spell that forces me to break every single camera I own. Luckily, I get insurance every.single.time.
Last weekend, I noticed my baby was sick, (mostly some weird non-moveable spots on the lens) and so we took it to Best Buy (like we have 2 other times with other cameras) to get it fixed.
A very long-story short: after a near blow-out battle between my sweet husband (who never, ever gets heated) and Best Buy who was trying to "replace with like kind and quality" our $500 camera with a basic $200 point and shoot, they replaced our camera with the Canon G12.
So, I now have yet ANOTHER camera. And it's the newest model.
Needless to say, I didn't get any pictures of this weekend. :(
But, I simply can't do a post without at least a few pics. So, I leave you with photo booth pics from the wedding we went to a few weeks ago.
How was YOUR weekend! Feel free to play Memoir Monday, and just copy my button. :)