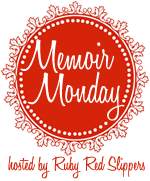 Ohmigoodnness.
It was one of those weekends where I will be playing catch up all.week.long.
I'm exhausted. And it's only Monday. ;)
We had the MOST needed date night on Friday, celebrated a dear friend's birthday on Saturday, and stayed in our pajamas until 4:00 p.m. on Sunday.
Perfection.
I haven't spent a weekend like that since college.
For now, I'm just going to share our fun Saturday birthday celebration!
Birthday Girl.
Martha Stewart. No, not the birthday girl. Her husband. He's always baking for us.

Lumberjacks. We didn't mean to match, I swear!

"Sit." Yes, that is my husband. Sitting on a dog bed.

Nothing but class. It's not a party unless you're sitting in camping chairs.

Friends. Since fourth grade. When we wore Keds.

Caught in the act. My husband having a dance off...with himself.

A real dance off. If you haven't played the Michael Jackson Wii game, you are missing out. This was one of the highlights of my life. We stayed up until 3 am dancing the night away. (Watch Mr. Ruby on the left...hilarious).
Feel free to join in and play along...I'd love to hear about your weekend recap.
P.S. Hello to all of my new bloggy friends. So nice to meet you! ;)